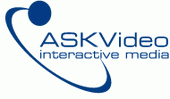 ASK Video has announced it is now offering their entire catalog of music software tutorial videos as digital downloads in addition to the original DVD format.
"It has been our pleasure creating and selling Tutorial DVDs since 2003," said Steve Kostrey, President of ASK Video. "DVDs have been our bread and butter since then, and we love that our customers love to watch ASK Video tutorials. But times are changing. The Internet is faster, broadband is faster, and our customer's expectations are changing. We are still going to offer our time proven method of DVDs but we are now heading towards the future. That future being tutorials offered as downloads."

The move to download has been made possible by AVP, or Ask Video Player. AVP is built upon the company's popular instruction delivery system and takes advantage of the latest technologies to give the user the best video experience possible. AVP has both product authorization and built-in online product registration to ensure ease of use and provide a secure method of distributing videos instantly to customers.

This new distribution method gives both customers and online retailers an advantage. Retailers no longer have to ship and stock physical product, while having the entire ASK Video catalog available for sale. This also means that customers can instantly purchase and begin using any title as well. They simply download and install the AVP and authorize the ASK Video title with the purchased serial number.
Downloads are now available direct or from your favorite online retailer.
More information: ASK Video