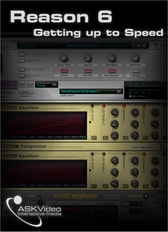 ASK Video has released Reason 6 Getting up to Speed, a new video tutorial covering the new features and effects in Propellerhead's Reason 6 music software.
Reason and Record have been combined into one feature packed product aptly titled, Reason 6 with a lot of new features and effects. The aim of this tutorial is to help those who are already using Reason or who already have our Reason 5 to tutorial, to get up and running quickly with the new elements Propellerhead has added.

Reason 6 Getting up to Speed includes 20 extremely high-quality videos for Mac OS X and Windows. : Audio engineer and musician Mike Baggley gets user up to speed quickly by covering 5 main topics: The new Mixer, The Pulveriser, Alligator, The Echo, and Neptune. By the time their done watching, users will feel confident in using them in their next music project.

Reason veterans or owners of previous Reason tutorials should picking up this DVD because it avoids talking about previously covered topics and gets right to the new features and effects. The easy-going and fun style of the tutorial also makes learning about the new features in Reason 6 a really great experience.
Reason 6 Getting up to Speed is available to purchase for $19.99 USD.
More information: ASK Video / Reason 6 Getting up to Speed