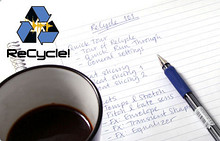 ASK Video has released ReCycle Tutorial, an in-depth introduction to ReCycle 2.1 and Reason Adapted version 4 for ReCycle.
In the tutorial, ASK Video's Mike Baggley will take you step by step from installing and setting up ReCycle on your system, to slicing your samples and turning concrete-rigid loops into musical modeling clay.
ReCycle Tutorial is available as a digital download from the PropShop for 25 EUR.
Note: This product requires Quicktime, available as a free download at www.apple.com.
Visit Propellerhead Software for more information.