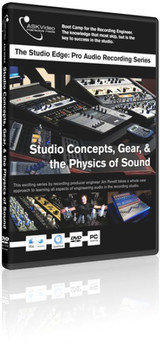 Time+Space has announced Studio Concepts, Gear & the Physics of Sound, a new tutorial video series by ASK Video.
These days more and more people are recording at home instead of going to professional studios. The technology involved has become so accessible that almost anyone can start up their own studio. While this means that there´s more music out there than ever before, it also means there´s a lot more poorly produced music floating around. It´s not enough to simply have the required equipment. You need to know how to use it!

In this first instalment of The Studio Edge: Pro Audio Recording Series you will learn the fundamentals of sound engineering that are crucial to your success in the studio. Understanding the physics of sound and how to properly use things like compression will make all the difference in your recordings.

The tutorial´s author, Jim Pavett (owner of Allusion Studios in Tucson, AZ), will give you a detailed overview on every aspect of the recording process, with hands on projects covering how to set up your monitors, how to handle phase issues, and how to properly place microphones. Throughout the tutorial, Jim also gives opportunities for you to get out of your seat and get involved. Whether it´s figuring out which frequency your hearing tops out at, or moving around the room to figure out the best place to put your monitors, there are tons of practical lessons to try out on your own.

If you´re starting to put together a studio and are feeling overwhelmed with everything around you, let ASK Video help you out by teaching you the fundamentals of audio.
Studio Concepts, Gear & the Physics of Sound features
92 Videos.
Over 3 hours of professional instruction.
Extremely high quality tutorial videos.
Easy to use interface.
Mac OS X & Windows compatible.
Studio Concepts, Gear & the Physics of Sound is available to purchase from Time+Space for £45.99 GBP / €55.99 EUR.
More information: Time+Space