A special collaboration between Astro Spatial Audio (ASA) and Adamson Systems Engineering will allow visitors to experience true object-based 3D audio for live entertainment at Prolight + Sound 2017.
Taking place in Hall 3.1, on booth H14, the two companies will combine their market-leading technologies to host a series of demonstrations using Adamson Point 8 enclosures driven by ASA's recently launched SARA II Premium Rendering Engine.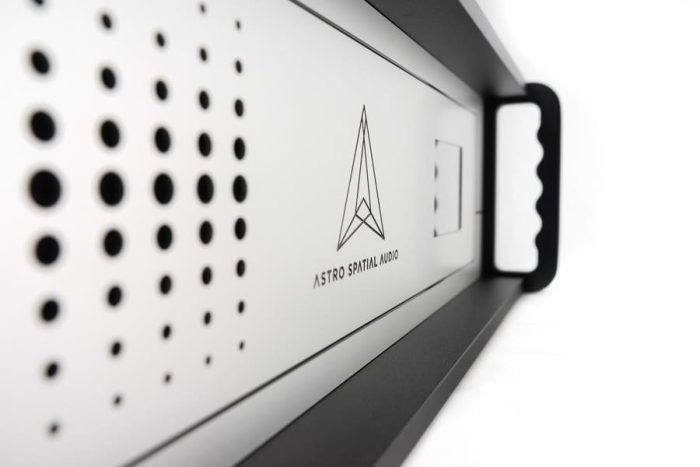 The Astro Spatial Audio booth will be encircled by 15 compact yet powerful Adamson Point 8 enclosures and accompanying subwoofers, forming a high quality audio canvas. Using the power and versatility of just one SARA II engine, ASA will illustrate the new creative possibilities of object-based 3D sound in a live entertainment environment, plus variable room acoustics and stage tracking features. Demonstrations are set to take place every two hours.

The 3U, rack-mountable SARA II Premium Rendering Engine harnesses SpatialSound Wave technology, developed by the Fraunhofer Institute for Digital Media Technology IDMT. With a 2.8" touchscreen display plus hardware refinements such as ultra-low noise cooling and redundant on board SSD drives, each SARA II engine can accommodate up to 64 MADI or 128 Dante™ configurable network pathways, all of which are assignable to at least 32 audio objects.

Browser-based access to a user-friendly GUI ensures ease of operation with simultaneous control from up to 10 devices (via OSC for MIDI, RS232 and GPIO). Latency is less than 5ms, while reliability of operation is ensured with solid construction and a Linux CentOS operating system.

"It can be easy to incorporate true object-based 3D sound into live entertainment, and at Prolight + Sound, we're going to demonstrate precisely how it can be done," commented Astro Spatial Audio Director, Bjorn Van Munster. "For our demonstrations, we wanted to partner with a premium loudspeaker brand that understands our core values of very high quality performance and ease of use, and I believe that Adamson is the perfect fit. We are delighted to be working with them."

"This booth is the perfect opportunity to experience hands- and ears-on the potential of flexible premium immersive audio; both the Adamson Blueprint AV simulation software as well as the SARA II engine share a common file structure, enabling efficient exchange of simulated loudspeaker positions," comments Marc Weber, Director of Product and Brand Management, Adamson Systems Engineering. "This, plus the object-based approach of SARA II makes the adjustment of the loudspeaker system to different venue requirements for touring and installation applications quick and efficient."
Prolight + Sound 2017 will take place at the Frankfurt Messe between April 3rd and April 7th. Astro Spatial Audio can be found in Hall 3.1, booth H14.
More information: Astro Spatial Audio