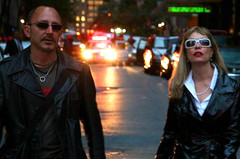 I was listening to "Rocket Science For Dummies" today and I thought I'd share some press info on it since I never heard of Astronauts of Antiquity before and I really enjoyed this album.
Astronauts of Antiquity recently released their sophomore release, Rocket Science, on RevCon Records. Eclecticism conveys a part of what Rocket Science is. But it's more than that – it's the rarely successful marriage between club and lounge music – dub, trance, electronica, jazzy neo-soul – and great, unforgettable pop songwriting.

You can hear it from the first notes of the album opener, "Everywhere," with its luscious, loungy vibe and India's powerful yet subtle vocals enveloping the track. It's present in "Beautiful Fate," where India's smoky, seductive vocals mingle with emotionally affecting lyrics and a hypnotic melody and rhythm track that brings to mind Kid A-era Radiohead.
Rocket Science For Dummies has a lot to offer musically. Lovely laidback tunes, effortlessly blending many different styles throughout the album. The tracks are wonderfully produced, with India consistently delivering superb vocals. Jazzy & funky, reminding me of Portishead on some of the tracks.
You can download a free mp3 track from the album below. It's one of the more jazzy songs on the album.
Strangest Places
You can check the rest of the album on the Astronauts of Antiquity website.