Auddict has launched Drums of the Deep Vol. 2, a Kontakt instrument library featuring a collection of drum ensembles.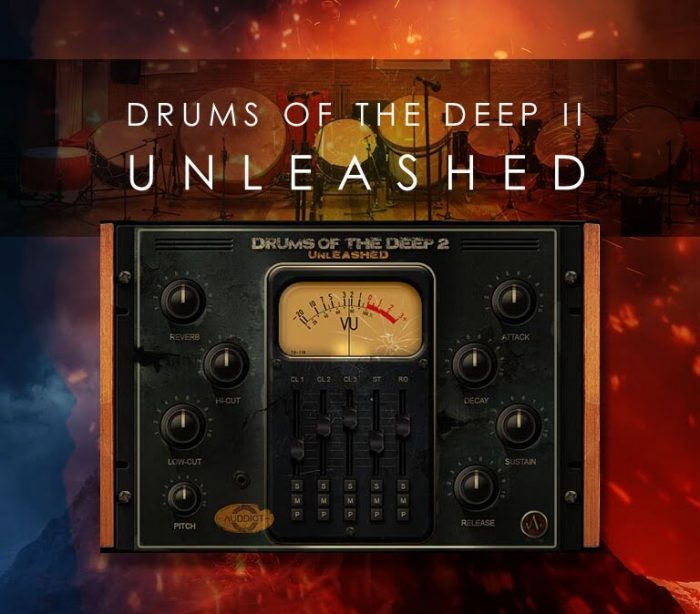 After the success of "Drums of the Deep I", which made its way swiftly into major scores, such as video game shooter of the year, "Titanfall" by Stephen Barton, who described it as a "staple in his template", we could not possibly stop there – so we've taken it all to a new level, and are proud to present DRUMS OF THE DEEP II.

Drums of the Deep vol.1 was a library of solo drums, but vol.2 "Unleashed", is a library of ensembles of as many as EIGHT drummers playing at once, with a sound that can only be described as cataclysmic…

Over fifty instruments were recorded, and every drum was meticulously mic'ed to capture every sonic detail these magnificent instruments had to offer.

We spent much longer recording this library, ending with a huge amount of content… Includes up to 7RR per hit, 6/7 dynamic layers, and many different types of mallets/sticks and techniques.

Various drums that we recorded are original instruments with a tremendous history of credits which is ongoing to this day – Taikos and Gran Casas in particular. Some of these credits include the Lord of the Rings, Harry Potter and Star Wars.
Drums of the Deep Vol. 2 features
Included drums: Taikos Ensemble, Gran Casas Ensemble (Colossal Bass Drums) 1, Gran Casas Ensemble (Different Set Of Colossal Bass Drums) 2, 8 Drum Army (More Taikos and Gran Casas), Field Drums Ensemble, Frame Drums Ensemble, Huge Toms Ensemble, Rope Tension Drums Ensemble, Boobams (Solo), Surdos Ensemble, Timpani Ensemble (Five timpani at once!).
27GB content (you will need at least 54GB of free hard drive space for the extraction process).
Drums recorded with as many as seven dynamic layers, multiplied by seven repetitions per hit, giving up to 49 variations per technique.
Articulations/techniques/mallet types include: Hard sticks, Leather sticks, Medium soft mallets, Muted hits, Soft mallets, Brushes, Rims 1, Rims 2, Hot Rods, Hot Rods (Muted), Finger rolls, Hands. Various articulations played at the centre and near the edge.
Drums of the Deep Vol. 2 is available for the introductory price of £96 GBP for a limited time (regular £175 GBP). Requires Kontakt version 4 or higher (full version only).
More information: Auddict / Drums of the Deep Vol. 2