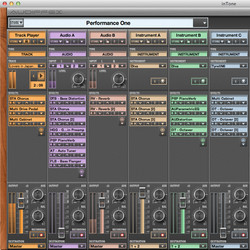 Audiffex has announced inTone 2, a flexible effect processor with a mixer-like main window.
inTone 2 is fully rewritten. The original inTone for Mac was developed as a Carbon application opening VST 2 plug-ins.

The new version is a pure Cocoa application, 64-bit compliant, utilizing modern software technologies. It uses Audio Unit versions of built-in and third party plug-ins.
Changes in inTone 2
The mixer window is the primary window of the application.
The mixer window shows all important controls, including the signal routing, playback controls and preset management.
Presets can be organized in PresetLists – similar to Playlists. This allows easy preset changes during your performances.
Track Player output can be processed by effects.
Track Player output can be included in recording.
Track Player output can be sent to individual outputs or to the Master Chain.
Track Player status is saved in presets.
Track Player can not only speed up or slow down the playback, but also allows fine or semitone pitch changes.
Individual volume for each track in a playlist.
Any individual chain can be recorded.
An extra recorder can be placed at any position in the effect chain.
Individual Chains can be stored and loaded.
Chains can be locked when loading a preset.
An Aux chain is added with a possibility of output to selectable direct out channels or to the master chain.
All features can be controlled by MIDI, not only plug-ins.
Each Effect Chain has a selectable color. Track Player, Track Recorder and some Audiffex plug- ins are displayed with the same interface color to be easily distinguishe.
inTone 2 will be available for Mac in September 2013, and for Windows in December 2013.