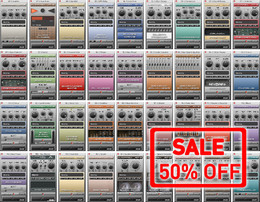 Plugin Boutique has launched a 50% off sale on the Audiffex Guitar Pedals, a collection of 36 plug-ins for guitar, bass, software instruments, vocal and acoustic instruments.
Audiffex guitar pedals – the legendary product, released under our previous label DSound 10 years ago as one of the first professional guitar software solutions. Because of a strong demand to release this set also for ProTools and as a standalone product, we have released the complete set of our stomp-box effects in one package.
Audiffex Guitar Pedals features
Modular system, instead of one very complex plug-in, use our effect pedals to create any order of the effects in the effect chain.
Consistent GUI: All the effects have similar control.
The preset management is simple and exactly the same for all the effects.
Exact models of real hardware in some effects – tube amplifiers, solid state amplifiers. Cabinets are measured by reference industrial measurement systems in a concrete dumb chamber.
The Guitar Pedals collection for Windows and Mac (VST) is now available from Plugin Boutique at 50% off the regular price of $99 USD.
More information: Plugin Boutique