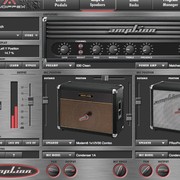 Audiffex has updated its ampLion guitar gear simulation effect plug-in for Windows and Mac to v1.1.4.
The update improves stability of the plug-in in Pro Tools and fixes the compatibility with Japanese localization of Mac OS.
Audiffex has also published two new videos about inTone Guitar Pro and ampLion, available from the Audiffex web site or directly at its YouTube channel.
More information: Audiffex