Audified has released a new audio plugin designed to bring distorted bass tones that are ready to rock. Peridot Pro is a mid-gain bass amplifier module with smart tone shaping for super-fast results.
Peridot Pro follows the Sphene Pro hi-gain bass module released back in July.
Are you underwhelmed by a conventional virtual bass gear? Dig no deeper! Audified have the 'gemsTone' you may be searching for.

Based on more than 10 years of experience in modern metal mixing and mastering, Audified's engineers have developed this gem of a plug-in to share their favourite distorted bass guitar tones with the rest of the world. Now you can experience the mighty rumble that shakes their company office windows every other day! Everything packed in an intuitive yet complex pedal-like tool.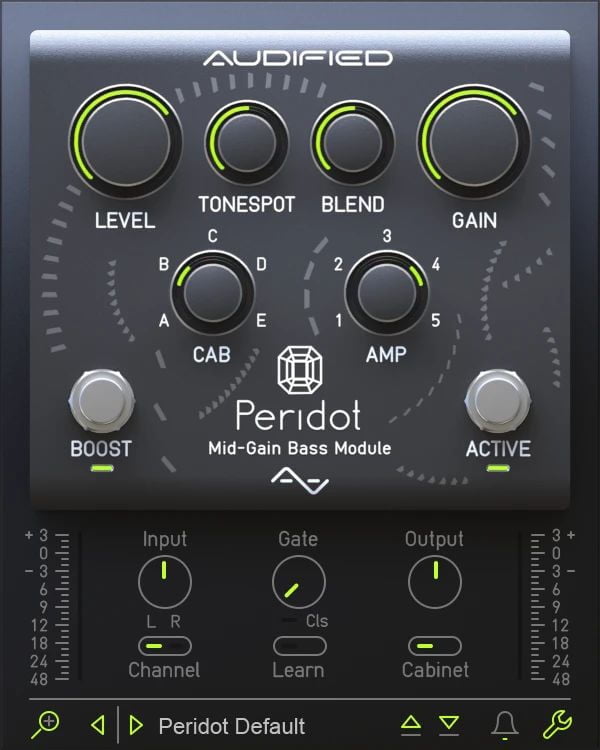 Peridot Pro features
5 AMP models: Choose from five pre-tuned amplifiers with completely different voicings. Every amp is tailored to accommodate various bass distortion aesthetics and playing styles.
5 CAB impulses: Custom cabinet modelling based on parallel IIR technology with minimal phase issues and low latency.
ToneSpot: ToneSpot technology builds upon the development and success of Audified ToneSpot plug-in series. It provides complex and efficient EQ shaping with only minimal controls needed. The ToneSpot function is extremely usable across all positions of the knob.
Blend: Mixes in the drive section of the pedal. When the blend control is turned completely down, the dry signal is still processed by the ToneSpot & CAB circuits.
Boost: Engage the boost function by the dedicated switch and get the instant signal push and more focused bass tone.
Gate: Onboard expander-gate can be activated via the utility panel below the pedal and it includes separately engageable threshold Learn feature.
Available in VST/VST3, AU and AAX plugin formats, Peridot Pro is priced $79 USD at Plugin Boutique.
More information: Audified