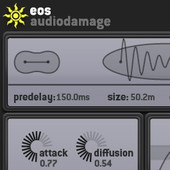 Audio Damage has released version 1.4.0 of the Mac version of Eos, an algorithmic reverb effect plugin.
This version contains both 32- and 64-bit AudioUnits and VSTs. If you haven't yet updated to v1.1.0, there are some fairly drastic changes in the way presets are dealt with. The result will be that existing projects will load to the default ("This Budd's For You") preset, and ignore automation. We apologize for any inconvenience this may cause.

For customers that have already installed 1.1.0, this 1.4.0 installer should not exhibit the same issue. However, you may have to re-scan in your 64-bit hosts to get the native 64-bit version recognized, via the usual methods. The Windows version is unchanged.
Eos v1.4.0 for Mac OS X is now available for download to existing owners.
More information: Audio Damage / Eos