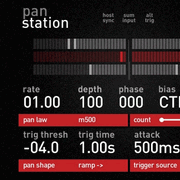 Audio Damage has released version 1.0.1 of Panstation, a panning effect plug-in for Windows and mac.
Panstation is, without question, the most sophisticated autopanner plug-in available. We started with a loose model of the venerable Drawmer M500's panning engine, then added the counting features from the Audio & Design PanScan (probably the most famous vintage autopanner, and the "secret weapon" of many well-known producers.) The result is an autopanner plug-in that is second to none in both feature set and sound.
Changes in Panstation v1.0.1
A problem that was preventing authorization on some 64-bit systems on both Windows and Mac has been fixed.
"Pan CC" mode now only responds to correct MIDI controller. Previously it had responded to any controller.
Panstation for Windows and Mac (VST/AU) is available to purchase for $39 USD.
More information: Audio Damage / Panstation