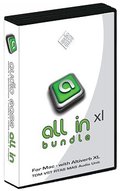 Audio Ease has announced the All In Bundle, a collection of all Audio Ease plug-ins and Snapper.
The complete versions of Altiverb, Speakerphone, the Nautilus Bundle, the Rocket Science bundle and Snapper, thrown into a single box, at a discount of over $500 dollars!
Audio Ease All In Bundle features
Altiverb 6 (regular or XL, which adds TDM and 5.1 surround support), a convolution reverb plug-in which uses top quality samples of real spaces to create reverb, ranging from Sydney Opera House to the cockpit of a Jumbo Jet.
Speakerphone, an audio plug-in which gives you authentic speakers of any size together with their natural environments.
Nautilus Bundle, includes RiverRun (Granular Soundscape Synthesizer), PeriScope (real-time animating spectroscope, graphic analyzer) and Deep Phase Nine (a true phaser that offers unprecedented control and visual feedback).
Rocket Science bundle, includes Roger (human vowel filters), Follo (dynamically adjusts the peak of a resonating bandpass filter according to the level of the incoming audio) and Orbit (lets you control the virtual position of your sound source).
Snapper, a tool which shows the wave form of audio files in the Mac Finder. It then allows you to Play, Drag, Drop and Convert them.
The All In Bundle is available for Mac only, for $1195 USD for the Altiverb 6 Regular version, and $1595 USD for the Altiverb 6 XL version.
Visit Audio Ease for more information on this bundle and its individual products.