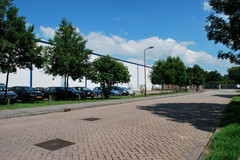 Audio Ease has released a number of new impulse responses for Altiverb, featuring 19 street samples that were made at wide variety of locations at a moonlit business park near Audio Ease head quarters.
This set of streets & alleys has been recorded on a cold Tuesday night in February. On a windstill winter night like this there are no leaves on the trees that rustle, no animals around and no people since it's cold and late. We then go out to record acoustics. We did a fair amount of street atmospheres and found that most of the recordings are extremely powerful when you need to place some source 'outside'. You get slapbacks, and some dense reverb, make sure your input isn't too loud and also add some ambience noise (as these IR's are silent) and you'll have an instant outside sound. Browse through this set, there's a lot to discover.

A K&H battery operated speaker was used to playback the sine sweep. Four DPA 4006 TL omni directional microphones mounted on a lightweight quad spider stand were used to capture these outside acoustics.
The impulse responses are available as a free download for all Altiverb users.
More information: Audio Ease / Impulse Responses