Audio Ease has released version 2.1 of Speakerphone for Mac, an audio plug-in that provides authentic speakers of any size together with their natural environments.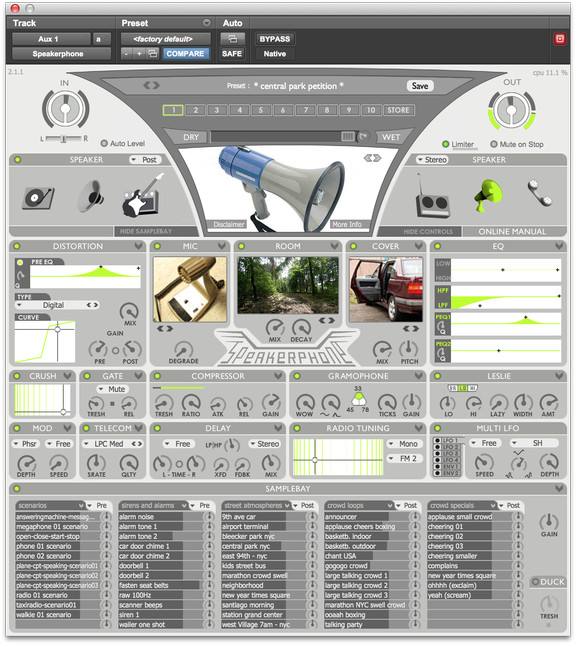 The long awaited 64 bits AAX update of Speakerphone has been released. It adds 64 bits, AAX for ProTools 10.3.8 and up, host based presets, modern speakers form tablets flatscreens and smartphones, and the entire GUI, old fashioned as it is, is now at Retina Resolution.

Speakerphone has become the industry standard solution when a speaker needs to be faked in any production. It contains Impulse Responses of hundreds of authentic Phones, PA's, guitar cabinets, helmet intercoms, and big old tube radios, together with ambiences, distortion, leslie, GSM codecs and all other processing specific to these quirky devices. Speakerphone can be heard it in every major Hollywood production, sometimes on almost the entire dialogue as recently in 'Gravity'.

Windows support is not yet included in this release, but it has followed closely during Mac development so more news about that soon. However, the Mac version of the AAX RTAS MAS VST and AU plug-in that Trent Reznor uses daily to 'un Steely-Dan' his audio," is free for all users of Speakerphone 2, and fully backward compatible with previous versions of what Joe Baressi has called 'the plugin that *does* sound like ass.
Changes in Speakerphone 2.1
64 bits.
AAX (does require Pro Tools 10.3.8 or up).
New smartphone, tablet and flatscreen TV speaker IRs added !.
New preset browser.
Factory presets also in host format.
Retina display support.
Speakerphone 2 is available for purchase for 395 EUR excl. VAT.
More information: Audio Ease / Speakerphone