The makers of the Audiofusion software that turns smartphones into a pro-quality wireless in-ear monitoring system, have launched a new initiative to bring their easy, budget-friendly system to Android phones.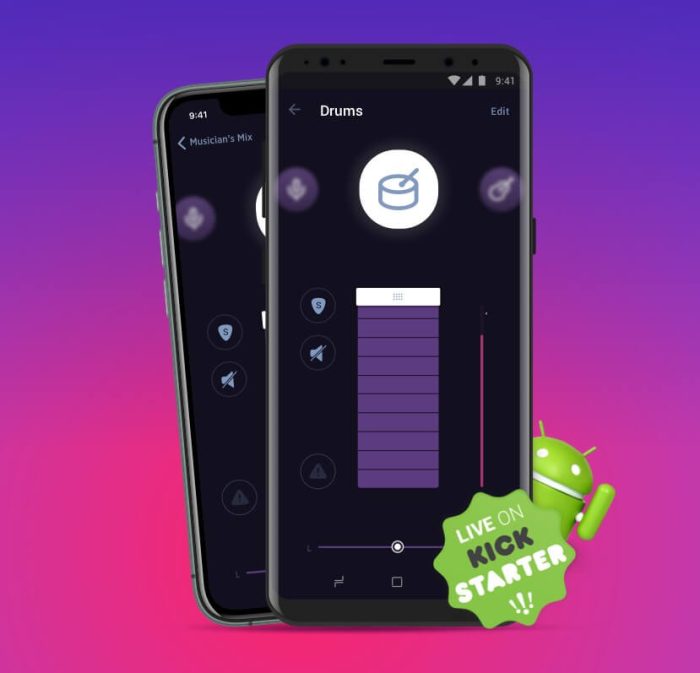 Audiofusion has already been delivering better and more affordable wireless, stereo monitoring for thousands of performers via iOS. But there's one request the Austin, TX-based music tech company gets time and time again from performing musicians: for an Android version of Audiofusion.
"We have hundreds of touring bands and churches using our system," says Audio Fusion Systems co-founder Brandon Leafblad, "but we've had thousands more who say they need an Android version."
To honor these requests, the founders are seeking the support and input of performing musicians in rolling out the Android version is the newly launched Kickstarter campaign, running through mid-June 2020.
By early August the Android user interface will be completed and backers will be able to begin beta testing. Audio Fusion will start by characterizing the performance of the top 10 Android models, then continue to test and characterize dozens of models after the general release of Android app in early October.
"Our technology allows us to turn your smartphone into a stereo, wireless receiver. Now any musician or band can afford in-ear monitoring and the touchscreen gives you control of the mix," explains Slick. "Our mission is to help every musician deliver amazing, confident, performances by giving them the ability to hear exactly what they need in their performance–no matter what mobile operating system they use."
Audiofusion includes SoundCaster, which connects and sends multi-channel audio to performers' devices, and the Performer app, which lets musicians hear and adjust real-time monitor mixes on their phones. These two pieces work together to provide an unmatched monitoring set up for performers with budgets for expensive, specialized equipment and support.
It's an affordable and efficient way for performers to get quality wireless in-ear monitoring for performances, be it in venues or as they livestream from home. With the widespread popularity of Android phones, this campaign means Audiofusion can finally provide the experience to Android users Slick first envisioned nearly a decade ago as he started the company.
More information: Audiofusion