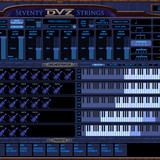 Audio Impressions has released 70 DVZ Strings, a Kontakt Player powered sound library featuring string instruments.
The 70 DVZ Strings Kontakt 4.1 Player library – a complete 70-string player orchestra, 10 of which are solo, the rest 2-instrument or 4-instrument desks – with all styles and articulations. 48 kHz 24 bit depth.

Includes our patented DVZ Core Engine software (for real-time divisi and orchestration, and single-GUI control). Also includes our patented SPACE process that recreates Decca Tree room and spot mic cross-bleed, eliminates that overdubbed feel, and lets you precisely place each player and continuously alter the room characteristics.
Audio Impressions 70 DVZ Strings is available to purchase for $1,495 USD. Note: Initially available to customers in USA and Canada only.
More information: Audio Impressions