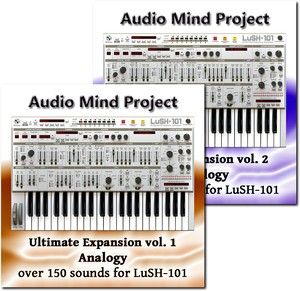 Audio Mind Projects has announced that its Analogy and Electrology soundsets for d16 group LuSH-101 are now available to pre-order.
The first volume shows a softer and calmer, more analog-like side of LuSH. A lot of carefully designed sounds suitable for ambient, pop and chillout here. A variety of deep, dreamy, dark and beautiful pads, both lush and calm orchestral sounds, a selection of keys, bright synths, gentle arps, as well as lead and bass sounds are included.

The second volume shows a more aggressive and electronic face of LuSH. With a wide selection of lead and bass sounds this may be called a lead/bass heaven. Moreover, various lively synths, pads, interesting arps, keys and even some orchestral sounds. Suitable for all kinds of electronic music as well as rock and others.
The libraries are available to pre-order for $16.99 USD each (regular $24.99 USD).
More information: Audio Mind Project