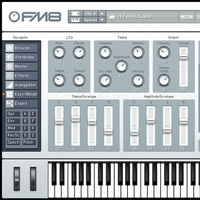 Audio Mind Project has updated its FM8 Experience soundset for the Native Instruments FM8 software synthesizer to version 1.2.
FM8 Experience is a vast, inspiring soundset that supplies you with versatile and widely useful sounds, not restricted to any narrow style. Various FM8 capabilities are used to shape the sound. To make the soundset more accessible, it is now available in volumes, more pointed towards genres of your particular interests.
The set includes 12 new sounds and now contains 192 sounds total.
Audio Mind Project has also announced that the soundset will be alternatively available in three volumes, each containing 64 sounds geared towards specific genres.
FM8 Experience Vol. 1: Dance/Trance is now available. Volumes 2 and 3 will follow in near future.
Until January 6th, 2013, FM8 Experience is available to purchase for $17.99 USD (regular $27.99 USD), and the Vol.1 Dance/Trance set is $7.99 USD (regular $9.99 USD).
More information: Audio Mind Project