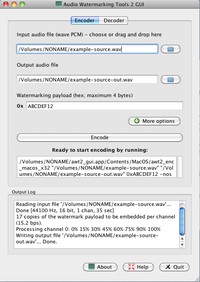 Alex Radzishevsky is offering rekkerd.org readers a 20% discount on the Audio Watermarking Tools 2 (AWT2), a set of software utilities for embedding (and retrieving) digital watermarks within (from) audio files.
Audio Watermarking Tools 2 (AWT2) — a watermarking solution realizing so called "blind watermarking" approach in the sense that the watermark can be extracted directly from the watermarked audio recording (the source audio is not needed).
AWT2 features
Cross-platform software (Windows, Linux, Mac OS, …)
Intuitive GUI front-end with drag-and-drop support.
Console tools for easy automation and quick deployment on servers.
Detailed documentation with examples and tips.
Free evaluation package.
Flexibly configurable algorithm.
Industrial grade watermarking performance providing

Truly robust watermarks.
Very high watermarking data rate.

Unique, proprietary, patented technology.
SDK available.
One license for any amount of machines (no binding to hardware or OS).
Free life-time updates.
Individual customer support.
Fair pricing.
(New!) free supplementary Android app.
Until March 15th, 2013, the 2-bytes or 4-bytes version of AWT2 is available to purchase at a 20% discount. Use coupon code 1F8EA2AB at checkout to take advantage of this offer.
More information: AudioWatermarking / AWT2