Audiobro has released Genesis, a Kontakt Player library featuring a 64 piece children's choir, recorded in 4 part divisi.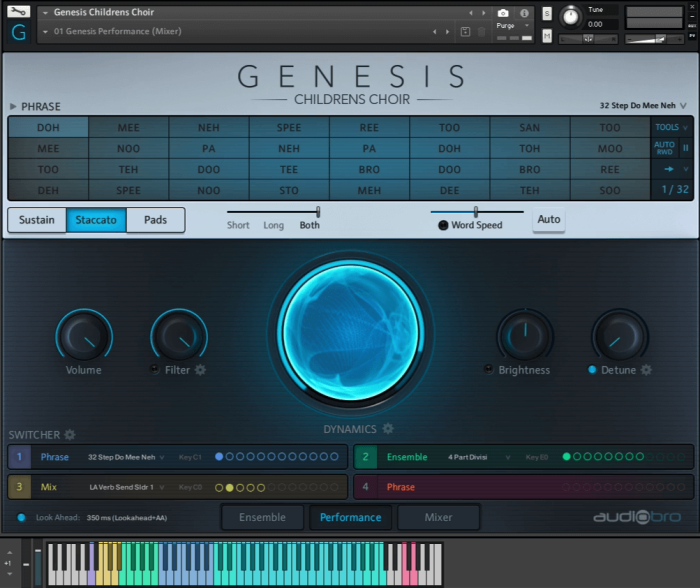 Built on Audiobro's new orchestral engine, the library features discretely recorded Soprana Girls, Alto Girls, Soprano Boys and Alto Boys.
Genesis features
Polyphonic Real Legato and melisma.
New Audiobro engine supports Kontakt and NKS.
New Auto Divisi engine with all-in-1 patches.
Programmable Latin based phrases.
3D Stage panner for all divisis/ensembles in a single patch.
New Look Ahead feature reduces tedious MIDI editing.
4 microphone mixes: Close, Stage, Far and Full Mix.
Multi dynamic recordings that are looped.
Over 30 phrase building syllables sung both staccato and sustained.
Prefix and Suffix pitchless articulations, easily combine pitchless articulations to vowels to create new words.
100% recallable Mixer Insert Effects, create inspiring mixes that can be easily key switched.
Switcher, a new 100% user definable switching system that allows you to switch phrases, mixes, Auto Arranging preset with ease.
Over 50 high quality custom IRs to be used in the Stage engine in categories (Score, Hall, Church, Cathedral, Small, Effects).
Word Speed, either auto-speed or user definable playback speed of syllables.
Round Robin La Las.
Realtime Tuning effects, easily change in real-time each divisi's tuning to create wonderful Aleatoric effects using only 1 control.
Delay & Humanization, a simple way to create even more inner-section humanization.
Effect Modulation with user assignable modulation sources (up to 4).
Komplete Kontrol support, seamlessly integrate with Native Instruments' Kontrol hardware.
Pads, pre-mixed choir pads.
Sound design presets, effect chain presets (user changeable) that yield modern sound effects and synth sounds.
Automatic RAM management, only the samples used in your patch will be loaded.
Genesis was recorded in a large state-of-the-art studio using one of the most elite children's choirs in Europe between the ages of 8 and 14.
Genesis for Kontakt Player 5.7 or later is on sale for the intro price of $299 USD for a limited time only (regular $399 USD).
More information: Audiobro