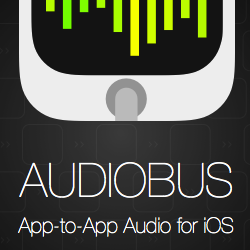 Audiobus has announced the release of the second version of its versatile Audiobus app-to-app audio routing app for iOS.
The first major update to Audiobus since its initial late-2012 release launches today. With hundreds of compatible apps and powerful new features like Multi-Routing, Presets and State-Saving, this highly-anticipated release is expected to further expand the possibilities of iOS as a music-making platform.

Audiobus 2's new Multi-Routing feature, unlocked by a $4.99 USD in-app purchase, makes available to users the full power of their iOS devices. Unlimited inter-app connections can be made, constrained only by the power of users' devices. This allows for chaining of effects and full control over audio routing. With additional sophisticated support for multi-channel input hardware, Audiobus 2 makes iOS an even more attractive platform for music production and performance.

Presets allow Audiobus configurations to be saved and recalled immediately, and shared with other users via email, Twitter or Facebook.

The revolutionary new State-Saving feature allows compatible apps to save and recall their configurations as part of an Audiobus preset. This provides users with a comprehensive workspace saving, sharing and recall facility. More than a dozen apps already support the new State-Saving feature, including Nave, JamUp, Swoopster, Sector and DM1.

These innovative new features are supported by a beautiful and functional new user interface that gently melts colours from the icons of loaded apps into the background.

"The thing people love about Audiobus is that it's a meta-app – it's an app that makes all your other apps better, more versatile, more creative," said Audiobus director and developer Michael Tyson today. "We're really proud of Audiobus 2 and think it's going to help people get even more out of their apps and their iOS devices."
Audiobus 2 is available for purchase on the App Store for $4.99 USD.
More information: Audiobus