AudioCR has announced the release of Capture Midi, a retrospective MIDI manager for Mac OS X.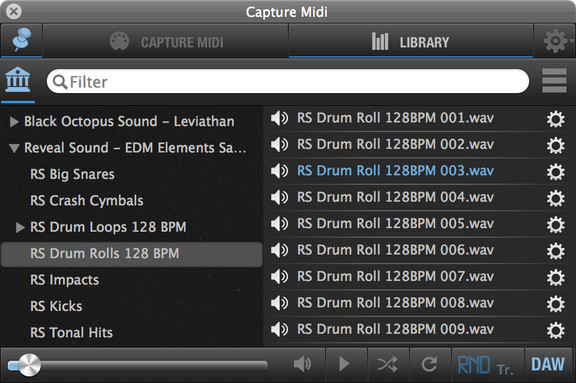 Play on midi keyboard and let Capture Midi backup and recover all your played melodies. Incredibly useful status bar tool that backups all live plays from midi keyboards. Just drag and drop your melodies back to your midi sequencer. Library Audio Browser let you playback and preview custom audio samples. A must to have companion tool for Logic Pro X, Cubase 7, Ableton Live or Garageband.

Capture Midi solves very common situations when you compose a melody to invent nice chord progression meanwhile you experimenting in your daw. Capture midi let you recover any interesting melodies while you improvise with nice virtual instruments or piano. Never blame recording button again that you just lost some interesting sequence.
Capture Midi features
Retrospective Recording — Capture midi backups all your played melodies from midi keyboard. Every time you start playing, new melody item grid is created.
Smart Trimming — Capture Midi records your keyboard play and creates melody items as soon as you stop playing.
Favorite interesting melodies — Capture midi let you instantly drag and drop interesting plays or you can just favorite and return back any time later.
Instant Metronome — Enable metronome and metronome starts playback as soon as you hit first key and stops as soon as you stop playback.
Random Transposition — Replay your melodies with random transposition. Once reply button is activated, capture midi will reply the melody every time with different key transposition.
Browse Samples — Browse sample libraries.
Capture Midi is available from the Mac App Store for $6.99 USD.
More information: AudioCR