audioD3CK has announced the release of the public beta version of Eekjuliza, a parametric equalizer effect plug-in suited for all kinds of tasks.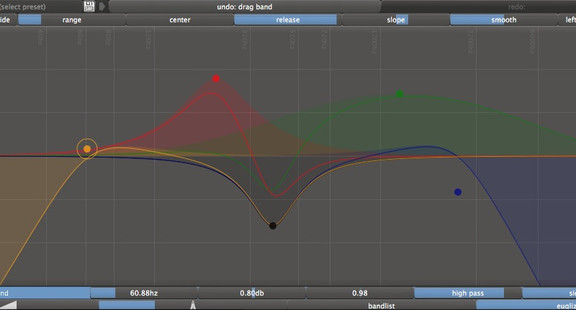 Eekjuliza offers you the classic filter types and can operate on any channel you want, be it left, right, mid or center. Need to find a specific frequency? No problem, hold down alt and find your frequency with temporary bandpass filter. Filter not steep enough? Just duplicate it and move them around as one!
Eekjuliza features
Supports all major platforms (MAC/WIN AU/VST/VST3/RTAS/AAX).
Virtually unlimited number of bands.
Complete 64-bit signal path.
Channel selection per band (left/right/mid/side/all).
Multi-channel input and output DFT analyzers.
Classic analog style filters (high-pass, low-pass, peak, high-shelf, low-shelf, notch, band-pass).
High quality, flexible oversampling.
Graphical representation of the equalizer's magnitude curve.
Frequency "seeking" function (alt+drag).
Band-gain mirroring.
Multi editing and dragging of EQ bands.
Full undo/redo.
Resizable UI.
Eekjuliza is currently available at the introductory price of 19 EUR.