AudioFB has launched a channel strip effect plugin developed for all styles of mixing. Daga's StripTeaser was developed in collaboration with producer brothers Adriano and Giu Daga.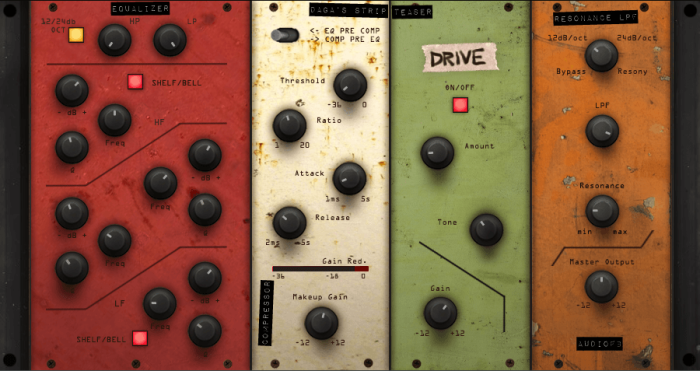 Stripteaser's multi-effect rack features:
4-band equalizer, where the extreme bands can be switched to bell or shelf types, 'high pass' filter with option of 12db / octave or 24db / octave and 'low pass' filter.
Versatile compressor with Thershold, Ratio, Attack, Release control, a post compression gain control and also has a control that allows you to switch between compression after equalization or equalization after compression.
Drive, this plugin module allows you to add a fuzz-like saturation to your track, Tone is an exciter between low and high frequencies. This effect contains an on / off button.
Low pass filter with resonance is a charm in our plug-in, the first control of this effect determines the type of filter to be used, the second control the frequency reached by the filter. The third control works only with the Resony mode and controls the resonance intensity.
General volume master ranging from -12db to + 12db.
The plugin is available in VST/VST3, AU and AAX formats at an intro price of $19 USD (regular $39 USD).
More information: AudioFB