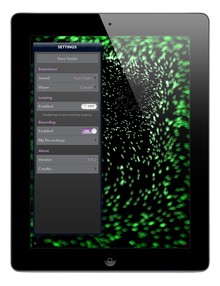 Audiofile Engineering has announced Vio, the first app for iPhone and iPad released under their new Square B brand.
Morph and shape your voice by exploring Vio's mesmerizing and unique user interface, watch the entrancing graphics, and hear the transformation of your voice.

Vio is an amazing app for anyone who wants to experience their voice transformed beyond imagination. In the hands of an experienced musician or producer, Vio is a serious creative tool to design new vocal sounds.
Vio features
Sonic adventures – always in tune
Build sonic universes from your own voice. The innovative audio engine behind Vio goes far beyond existing voice effects to create novel, futuristic vocal styles. Vio's sound spaces vary in character from edgy and energetic to mellow and relaxing. Vio surprises and inspires your creativity: you may not intend to do something, and it comes out cool. Whether you are an amateur or seasoned professional, Vio's pitch correction technology ensures that everyone sounds in tune and is beautifully harmonized.
Touch Control
Explore each sound space by touching Vio's swirling particle vortex. Move the vortex around the screen and change how your voice is transformed – harmony is added or subtracted, melodies emerge and disappear, and reverberations shape shift.
Looping
Double-tap the screen, loop what you have just sung or hummed, and focus on morphing your sound with the particle visualizer.
Recording & Sharing
Record your performances and share them via email, SoundCloud, Dropbox, or iTunes file sharing. Choose between compressed and high quality audio files.
Advanced Features
Visit http://squareb.co/vio/ to learn about advanced features like changing keys and recording high quality audio.
Vio for iOS is avaialble to purchase for $2.99 USD.
More information: Square B