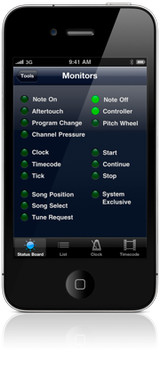 Audiofile Engineering has released Backline MIDI, a unique utility for MIDI users, especially anyone looking to monitor/send MIDI info in a live-performance environment.
Backline MIDI is a utility designed for fast, accurate MIDI troubleshooting in any setting.

Created by the minds at Audiofile Engineering, it's an ideal tool for traveling techs and live engineers who need a convenient way to monitor or send MIDI information on the go.

Create a master clock for tempo and time-sync functions, monitor incoming MIDI messages across channels with detailed info, and much more, all with an intuitive, easy-to-read interface.
Backline MIDI features
Monitors

Status Board for monitoring MIDI messages including: Note On, Note Off, Aftertouch, Controller, Program Change, Pitch Wheel, Channel Pressure, Clock, Start, Timecode, Continue, Tick, Stop, Song Position, System Exclusive, Song Select, Active Sensing, Tune Request.
List (see message details such as channel and velocity).
Clock display.
Timecode display.

Generators

Click (send specified note on assigned channel at a given tempo).
Transport (send start/stop/continue messages).
Clock (send tempo).
Timecode (send timecode).
Backline MIDI for iOS 3.1 or later is available to purchase for $9.99 USD.
Note: Full use of Backline MIDI requires the Line 6 MIDI Mobilizer accessory with the latest firmware. Download the latest firmware with the newest version of MIDI Memo Recorder.
More information: Audiofile Engineering