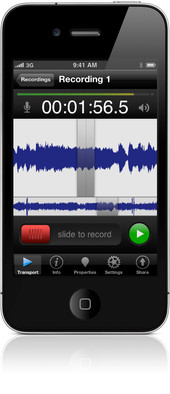 Audiofile Engineering has announced the release of FiRe 2, a new version of their popular field recording App that has been redesigned and rewritten from the ground up with a host of new features for the latest iOS devices.
"Although already recognized by audio professionals as a best-in-class field recorder," said Matthew Foust, founding partner of Audiofile Engineering, "we decided to rewrite FiRe from the ground up and create a next generation product incorporating many of the features our users have requested since FiRe's initial release."

FiRe was the first iPhone recorder to display an accurate audio waveform in real time, the first to support markers, Broadcast WAVE metadata, and the downloading of files in multiple file formats. for immediate release FiRe was the first application on any platform to offer native SoundCloud integration.
Changes in FiRe 2
Advanced editing suite with SmartEdits, Bezier fades, change gain, normalize, looping playback, regions and more.
Improved Transport screen with faster and smoother drawing and larger waveform view.
EQ and Dynamics effects developed by Audiofile Engineering.
iTunes file transfer.
Enhanced input processing powered by iZotope™.
Record in background.
Dropbox integration.
FiRe 2 for iPhone 3GS/4, 3rd/4th gen iPod touch, iPad, or iPad 2 (requires iOS 4.2) is available to purchase for $5.99 USD. FiRe 1.5 is still available for older iOS devices.
More information: Audiofile Engineering