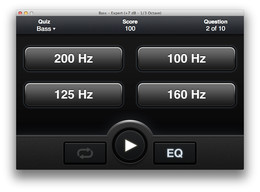 Audiofile Engineering has announced the release of Quiztones for Mac as well as an update to the iOS version for iPhone, iPad, and iPod touch.
Quiztones is an innovative ear training application designed to help audio professionals and musicians accomplish better mixing, recording and live sound. Quiztones uses quizzes to engage users in training exercises from frequency tones to EQ boosts/cuts on pink noise, instrument loops, and songs in a user's music library. Quiztones trains the ears to instantly and intuitively recognize frequencies, which is useful for tasks like mixing, adjusting EQ settings, and identifying and eliminating feedback.

Previously available only for iOS, Quiztones is now available for Mac and is the new, must-have accessory for audio engineers and musicians working in home or professional studios. The Mac version boasts similar features as the iOS version, including over 40 quizzes, but with the addition of a score log and 1/3 octave quizzes included in the purchase price.

Quiztones iOS has been updated to version 1.6 and now offers an Expert Mode of 1/3 octave quizzes (available as In-App Purchase) to challenge even the most accomplished audio professional. This new version also includes bass, electric guitar, strings, and orchestra content in the purchase price, previously only available via In-App Purchase. Finally, version 1.6 includes a native iPad interface to make the best use of the larger display.
Quiztones for Mac is available on the Mac App Store for $19.99 USD. Quiztones for iOS is available through iTunes for $4.99 USD.
More information: Quiztones