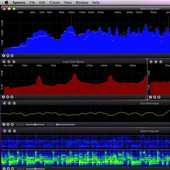 Audiofile Engineering has released version 1.5 of Spectre, a real-time multi-analyzer for Mac OS X.
First-time users and existing fans alike have plenty to discover in the newest version of Spectre, the real-time multi-analyzer from Audiofile Engineering.

Developed exclusively for Mac OS X, Spectre 1.5 not only offers versatile and precise tools for examining live audio, but also makes those tools simpler and more approachable than ever before.

New features include an Inspector window that reduces desktop clutter, additional metering and filtering options, and a specially priced Spectre Starter licensing option designed for beginners and students.
Changes in Spectre v1.5
Design Improvements

– Spectre 1.5 features beautifully redesigned meter windows, facilitating a quick and powerful workflow.

Performance Improvements

– Numerous improvements to the meters, performance and stability upgrades, a greatly improved manual activation process for computers that aren't online, updated Support window and many more.

Inspector

– Designed to streamline your workflow, the new Inspector window allows you to manage the Trace and Settings properties of all your meters in one window.
Redesigned Player – Not only did we give the Player a fresh new look, it now natively supports FLAC and Ogg Vorbis files!

Leq Meter

– Requested, and here at last! The Leq meter measures the energy of a section of audio, often referred to as the "loudness." It's unlike the level meters that show you the volume of your audio at that very moment. Instead, it takes an average over time so you can get an idea of how much "energy" is implied during a range of time.

And That's Not All…

– New features in Spectre 1.5 also include A/B/C-weighted filters, Leq filters, calibration for VU and BBC Meters, Form Factor and Crest Factor measurements in the Numerical Meter, gain control for individual traces, the ability to activate/deactivate individual traces, autozoom in the Lissajous Meter and more.
Spectre for Mac OS X is available to purchase for $99 USD. The Spectre Starter version is available for $49 USD.
More information: Audiofile Engineering / Spectre