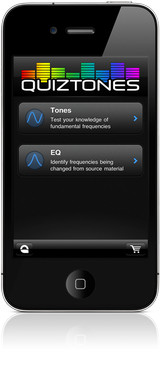 Audiofile Engineering has released an update of Quiztones, a unique ear training application for audio professionals and musicians.
Quiztones is designed to train the ears to instantly and intuitively recognize frequencies. This is useful for tasks like mixing, adjusting EQ settings, and identifying and eliminating feedback.

Version 1.5 adds over 25 new frequency trainers, in the form of quizzes, in addition to the tones, pink noise, drums, acoustic guitar and vocal trainers originally included in version 1 for immediate release .0. Custom quizzes can also be made from songs in a user's Music Library. New difficulty levels and scoring help the user keep track of their progress for the best results.

There is also a brand new in-app store for purchasing additional content. In addition to the original Quiz Pack of electric guitar & bass, version 1.5 adds two new Quiz Packs for in-app purchase: Strings 2 and Orchestra. New trainers will be coming soon to the Quiztones Store and can be added to expand the app even further.
Quiztones is designed to:
Sharpen frequency recognition skills.
Improve mixing and EQ skills.
Prevent noise buildup in mixes and recordings.
Identify and eliminate feedback on stage.
Eliminate the need for time-consuming frequency sweeping.
Quiztones 1.5 requires iOS 4.2 or later on an iPhone, iPod touch, or iPad and is available through iTunes for $2.99 USD.
More information: Audiofile Engineering