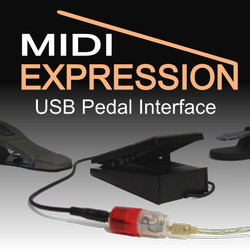 Audiofront has announced MIDI Expression, a USB pedal interface.
MIDI Expression is a very compact class compliant USB MIDI device that allows different types of pedals to interface with your computer. Pedal sensing technolgy built into the device detects the type of pedal plugged in and automatically adjusts its settings to support that device.

MIDI Expression has four built-in configurations or presets–one for expression pedals, one for sustain pedals, one for hihat controllers, and one for footswitches. When you plug-in a pedal, the MIDI Expression detects its type and automatically loads the corresponding configuration. A software configuration application can be used to change a number of settings for each of the configurations including, Chan, CC, and response curve and more. All settings are stored in the device itself for portability.
MIDI Expression features
Pedal Sensing Technology detects the type of pedal plugged in and reconfigures the device to ensure optimal performance and compatibility.
Graphical preset editor.
Editable expression curves.
Compact portable design.
Class Compliant (no driver required).
MIDI Expression is available to purchase for $49 USD.
More information: AudioFront / MIDI Expression