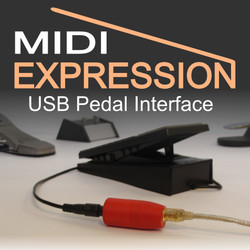 AudioFront has released version 1.1 of its MIDI Expression compact Pedal to USB MIDI interface, bringing improvements to all aspects of its design.
MIDI Expression is a compact class compliant USB MIDI device that allows different types of pedals to interface with your computer. Pedal sensing technology built into the device detects the type of pedal plugged in and automatically adjusts its settings to support it.
Changes in MIDI Expression v1.1
New Form Factor – The most dramatic change for MIDI Expression comes in the form of its casing. MIDI Expression is now housed in a 3D printed enclosure allowing it to maintain its compact form while improving its aesthetics and strength. There are also now six colors available including, white, black, red, green, blue and yellow.
Plug-in Version – The MIDI Expression Control application is now available in both standalone and VST varieties. The new plugin version allows configurations to be injected into the device on a per project basis offering a unique level of control.
Updated Firmware – The updated firmware contains some improvements as well. Firstly each color now has a unique MIDI Port name to facilitate working with multiple devices. Secondly the onboard LED has been improved giving the user timely visual feedback.
MIDI Expression is available to purchase for $49 USD.
More information: MIDI Expresion