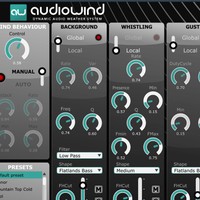 AudioGaming has updated its AudioWind instrument plugin to version 1.2, including 20 new Room Tones Presets.
AudioWind is our revolutionary VSTp that helps you create the perfect wind sound in a matter of minutes.

It can be used with every sequencer and requires just a few resources to work perfectly. With this tool, you will find a new way of making sounds, making it easier to get the sound you need.
Changes in AudioWind v1.2
20 new presets dedicated to room tones generation.
Remake of the presets window system.
Fixed audio bug: unavailability of 5.0 configurations.
Improved high cut (steeper slope, changed lower bound).
5.1 surround image improvements.
Eliminated minor bugs.
AudioWind is currently available for discounted price of 145 EUR (list price 245 EUR).
More information: AudioGaming