AudioKit has announced the Digital D1, a 64-voice virtual analog/PCM synthesizer instrument for iPad.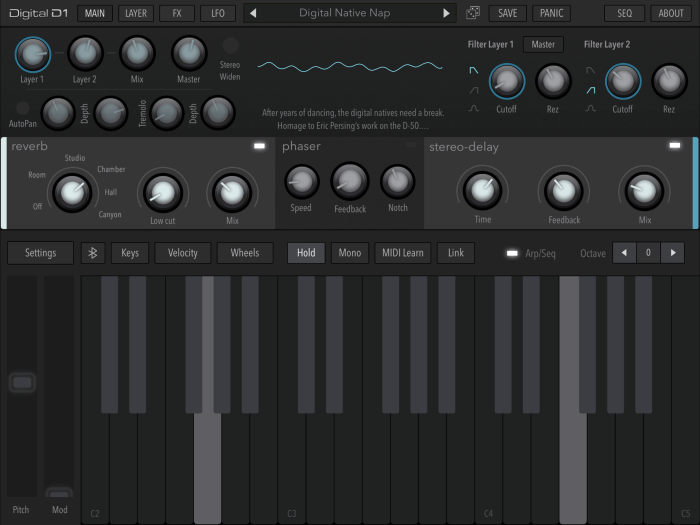 Digital D1 is inspired by the classic 80s and 90s digital synths like the D-50, JD-990, 01/W, Wavestation and more.
Digital D1 features
64-voice Hybrid Digital Poly Synthesis.
Fully loaded with 300+ presets by Brice Beasley, Matthew Fecher, Red Sky Lullaby, Jakob Haq, Dean Daughters (Electronisounds), Sound of Izrael, AfroDJMac, and more.
Full 1+ Gigabyte of original samples recorded from analog & fm synths over 30+ years old.
Space-saving Compression. The whole app is under 150mb
Dual layers per voice. Keyboard splits. Velocity Scaling.
Vintage-style Arp/Step Sequencer that can be routed to specific layers.
3 LFOs. Fun Routings. LFOs can modify other LFOs.
Dual Independent per-Layer filters
Plus, Per-voice harmonic key tracked Envelope filters. At full polyphony, that's 130-filters running at once!
FX: Glorious Reverb, Phaser, Digital Delay, Distortion, Flanger, Chorus, Crush, and more.
Inter-app Audio & AudioBus 3
Perfect with a MIDI Keyboard
Ableton Link.
Digital D1 is available for $4.99 USD. AUv3 support is coming around Deccember/January as a free upgrade.
All of proceeds from this app go to support the AudioKit open-source project and AudioKit Synth One.
More information: AudioKit