Matthew Fecher has announced the release of AudioKit Synth One, a free, open-source synthesizer instrument.
Over the past 2 years, Matthew and over 100 volunteers, including sound designers for M83, Rihanna, Kanye West, and more have been donating their time to build the world's first completely free professional open-source iPad Synthesizer.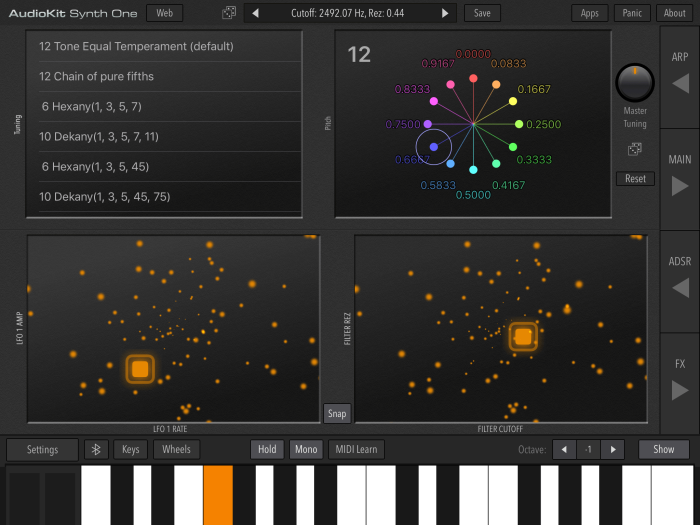 Created by over 100+ volunteers around the world, this app includes MIDI support (play it with a MIDI keyboard or controller), sequencer, vintage-inspired analog filters, expressive arpeggiators, warm analog delays, and, over 300+ presets to get you started!

Plus, it's completely open-source. Use the code to learn how to build your own synth app or modify the app yourself!
AudioKit Synth features
Hybrid Analog/FM Poly Synthesizer.
Over 300+ Presets crafted by famous sound designers.
Audiobus 3 & Inter-app Audio (IAA).
AUM, BeatMaker 3, Cubasis, GarageBand compatible.
Five Oscillators (2 DCO, FM, Sub, Noise).
2 Assignable LFOs with dozens of routing possibilities.
100+ Alternative Scales & Tunings.
Vintage-Style 16-Step Sequencer.
Classic poly arpeggiator.
MIDI in (Control with a MIDI Keyboard or DAW).
Touchable ADSR Envelopes for Amp & Filter.
FM Oscillator w/ Mod.
Dedicated Sine/Square -12/24 Sub Osc.
4-Pole Vintage Low-Pass Filter.
High-Pass/Band Pass Filters.
Mono portamento & legato.
Beautiful Sean Costello Reverb.
Multi-tap (ping-pong) delay.
TouchPads.
Preset Import/Export & More….
MIDI Learn on all knobs.
Compact app size (under 30mb).
MIDI Bank (MSB)/Patch Change & Sustain Pedal support.
Bank of over a dozen "Starter" presets by Brice Beasley to use as a starting place to craft your own preset creations.
Full Source code included.
AudioKit Synth One is now available from the iTunes App Store. The full source code will be released soon.
Planned future developments include support for Ableton Link, MPE and AUv3.
More information: AudioKit