Audiomeals has launched Talkie Box, a walkie-talkie, radio, and telephone voice designer software for Windows and Mac.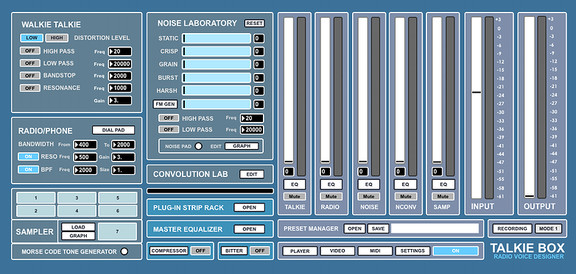 Talkie Box is a prototype "all-in-one" audio tool develop to create & design radio voice effects for films & games.
Talkie Box features
Walkie-Talkie Emulator: Includes distortion, 3-Band Parametric EQ, High Pass, Low Pass, BandStop and Resonance filters.
Radio-Telephone Emulator:

Limit your frequency bandwidth. Includes 3-Band Parametric EQ, Resonance & BandPass filters.
Dial Pad: Telephone Dial Pad with real sounds. Create your own dialing sounds sequence.

Noise Laboratory:

Design your own radio background noise and interferences sounds.
Up to 6 different noise signals. Control FM Gen parameters via XY Pad.
Includes High Pass & Low Pass filters and 3-Band Parametric EQ.
Noise Lab Sampler: Once the desired background noise has been designed, you can also trigger this noise as if it were a sampler via Noise Pad. Triggering envelope designer included.

Convolution Lab:

Design your own voice noisy sounds. Add some noise and bad reception sounds to your voice.
Input signal is convolved trough different noisy sound signals. Up to 6 different noisy sound signals. Control FM Gen parameters via XY Pad.
Includes a 3-Band Parametric EQ.
Input depending mode available. Allows activating or deactivating the convolution lab sound depending the input level.
For example, you can create some noisy voice sounds and activate them only when the input level is high, so you will only hear these sounds when your voice is louder, creating some interesting and realistic effects.

Sampler:

Up to 6 pre-loaded radio & walkie-talkie sounds available.
You can also load your own sample; triggering envelope designer.
Includes a 3-Band Parametric EQ.
Morse Code Test Tone Generator: Generate your own Morse Code messages.

Plug-in Strip Rack:

You can load up to 2 plug-ins (VST/AU) into the audio chain.
Serial & Parallel plug-in processing options.
Save & Load plug-in presets. Export .fxp files.

Master EQ: Includes a 3-Band Parametric EQ, High Pass & Low Pass filters.
Compressor: Add some compression or limiting to your audio signal.
Bitter: Add some extra distortion by reducing the sample rate.
Input & Output Routing: Send audio from any DAW/Audio Editor to TalkieBox or from TalkieBox to any software.
MIDI: MIDI Learn. Control any fader & sampler pad via MIDI device.
Recording:

8/16/24/32-bits & WAV/AIFF Formats.
Simultaneously dry/wet recording mode available; it allows you to process again the original source content (your voice) to apply some edits or to create some variations before the final recording.

Audio Player: Play any file from your computer into Talkie Box.
Video Player: Play video files from your computer for better audio/video synchronization.
Preset Manager: Create your own presets. Store & recall the whole session data.
Talkie Box for Windows and Mac is available to purchase for $10 USD / 8 EUR.
More information: Audiomeals / Talkie Box