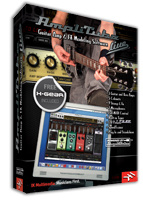 audioMIDI has announced another No-Brainer deal, this time for IK Multimedia's AmpliTube 2 Live, a guitar and bass tone gear modeling software for Windows and Mac.
AmpliTube 2 Live is a complete guitar amp modeling solution and effects powerhouse with ultra accurate models of the most sought after gear and the ability to mix and match separate components to build your own amps and craft a unique and ultimate tone. It comes both as a standalone application and a plug-in compatible with your favorite recording software, including Pro Tools, Cubase, Logic, GarageBand, and others.

Fully MIDI-controllable, AmpliTube 2 Live is based on AmpliTube 2's unique DSM™ technology and includes three guitar and bass amplifier models of the most sought after vintage gear for a total of 15 amp combination possibilities, 11 effects, a built-in tuner, an amazing selection of over 128 customizable user presets, and SpeedTrainer, an integrated audio player with pitch and speed control, ideal for learning your favorite songs.

AmpliTube 2 Live also includes AmpliTube X-GEAR, with additional amps and cabinets, dual rig and the possibility to use AmpliTube 2 Live with any other "Powered by AmpliTube" software with full mixing and matching between the included models.
AmpliTube 2 Live features
Two separate modules: tuner + configurable stomp pedal board, and amp head + cabinet + mic.
Nine stomp effects plus spring reverb and noise gate.
Three amp models.
Four cabinet and two microphone models.
Digital tuner.
Standalone and VST/AU/RTAS plug-in for all popular DAW platforms.
Includes SpeedTrainer™ for playing along with your favorite recordings.
Includes AmpliTube X-GEAR for seamless integration with all the other "Powered by AmpliTube" products, MIDI control and StompIO integration.
Powered by AmpliTube® with exclusive DSM™ (Dynamic Saturation Modeling) technology for award-winning sound & realistic feel.
Mac OS X (including Leopard) and XP/Vista compatible.
AmpliTube 2 Live is available to purchase from audioMIDI for $15 USD until March 8, 2010 (regular price $99 USD).
Visit audioMIDI for more information.