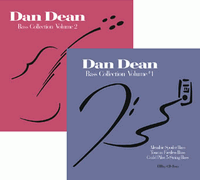 audioMIDI.com has launched a No-Brainer Deal for Dan Dean Productions Bass Collection, a sample library collection of 13 different bass instruments.
An immense collection of widely different bass instruments. A combination of Dan Dean Bass Collections #1 & #2 plus more instruments not found on either previous collection.
audioMIDI.com Dan Dean Productions Bass Collection features
Classic basses from the 60's and 70's, recorded both direct and with amplifiers. Amplifier presets include some some clipping/overdrive. Very realistic sound quality when used in a track.
Instruments include: Alembic Spoiler Bass, Toucan Fretless Bass, Guild Pilot 5-St. Bass, Fender Jazz Bass, Fender Precision Bass, Rickenbacker 4001 Bass, Hofner Violin Bass, Gibson Thunderbird Bass, Alembic Spoiler 5-St. Bass, Washburn AB-20 Fretless Acoustic Bass Guitar, Guild Ashbory Bass, Hohner Fretless Acoustic Bass Guitar, Acoustic Bass.
Articulations include: FF (Neck Pickup/Fingers), FH (Bridge Pickup/Fingers), PF (Neck Pickup/Pick), PH (Bridge Pickup/Pick), PM (Muted Strings/Pick), Slap, Pop, and more…
An incredible Pizz Acoustic Bass is included in both Mono and Stereo versions.
Highest quality sample recordings, all basses are chromatically sampled (every note of all the instruments).
UV-22 encoded for optimal sound quality.
Compatible with Kontakt, EXS-24 and NN-XT.
The Dan Dean Productions Bass Collection No-Brain Deal is available to purchase for $20 USD until 22 July, 2010.
Visit audioMIDI for more information.