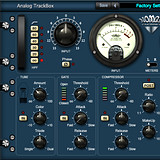 audioMIDI.com has announced another No-Brainer Deal: Nomad Factory Blue Tubes Analog TrackBox, an all-purpose channel strip tool designed for ultimate sound quality and audio character for maximum musical flexibility.
The new Blue Tubes Analog TrackBox is the latest addition to the Blue Tubes Plug-ins range, and combines all the best elements of the Tube Emulator, CP2S compressor and PEQ332 parametric equaliser to create a truly flexible and spectacular sounding valve front end for any audio system.
Blue Tubes Analog TrackBox features
Tube (12AX7) Amount variable from 0 to 100%
Tube Color variable from ±10
Tube Dual-Triode variable from single to dual
Tube bypass switch
Gate Threshold variable from 0 to -60dB
Gate Attack Time variable from 0.2 to 400 ms
Gate Release Time variable from 50 to 2000 ms
Gate bypass switch
Compressor Threshold variable from 0 to -60dB
Compressor Attack Time variable from 1 to 400 ms
Compressor Release Time variable from 50 to 2000 ms
Compressor Ratio variable from 1:1 to 10:1
Compressor MakeUp variable from ±15dB of gain
Compressor Pre/Post EQ switch
Compressor bypass switch
2 bands shelving equalisation
2 bands parametric equalization
2 bands pass-filters
LF band variable from 40Hz to 600Hz – low-shelf
LMF band variable from 200Hz to 2.5kHz – low-mid-parametric
HMF band variable from 600Hz to 7.5kHz – high-mid-parametric
HF band variable from 1.5kHz to 16kHz – high-shelf
HPF variable from 20Hz to 80Hz
LPF variable from 10kHz to 18kHz
Each band offers ±15dB of gain and variable Bandwidth-Q
Unique EQ bypass switch for all bands
Input and output level controls giving ±15dB trim
Peak-Limiter control
Easy-to-use vintage interface with VU Meters.
Windows XP / Vista32 and Mac OS X (Intel & PPC) supported
VST, AU and RTAS supported
24 bit / 192 kHz supported
Nomad Factory Blue Tubes Analog TrackBox is available to purchase from audioMIDI.com for $15 USD (regular price $189 USD).
Visit audioMIDI for more information.