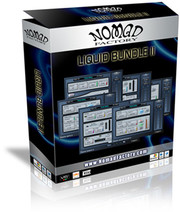 audioMIDI.com has announced a No-Brainer deal for Liquid Bundle II, a collection of effect plugins by Nomad Factory.
The Liquid Bundle gives you a variety of incredible effects plug-ins. The plug-ins in this bundle include Liquid Compressor II, Liquid Delays II, Liquid Gate II, Liquid Mod II, Liquid Phase II and Liquid Verb II. These tools are ideal for the sound designer, mixer and musician. And although this plug-ins provides intuitive and simple controls, the sound quality they deliver is full and warm. Plus, Liquid plug-ins operates efficiently to avoid over-taxing your CPU resources.

Designed by musicians for musicians, the Liquid Bundle II is an essential tool for your virtual studio.
The Liquid Bundle II is available to purchase from audioMIDI.com for $15 USD until 18 April, 2011.
Visit audioMIDI for more information.