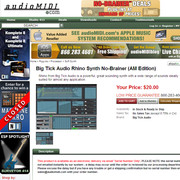 audioMIDI.com has announced a no-brainer deal for the Rhino software synthesizer by Big Tick Audio.
Rhino from Big Tick Audio is a powerful, great sounding synth with a wide range of sounds ideally suited for almost any application.Big Tick Audio Rhino Synth No-Brainer (AM Edition)

This special AudioMIDI.com edition includes 3 additional banks of presets:

Azul – Put your dancing shoes on ! These 128 presets by Daniel Maurer include dance loops, rhythmic synths, basses, leads, comping and pads
BasicFM – Basic FM features 128 presets that will fit many different styles of music. With useful parameters assigned to the User Sliders, change the sliders during performance for an evolving, dynamic texture. Included presets are: mono analog emulations that have a sharp FM edge, soft and harsh pads, strings, brass, effects, keyboards and electric pianos, clavs, guitars, bells, bass and more.
Bread & Butter – 128 presets by Daniel Maurer, featuring loops, velocity switched electric pianos, acoustic guitars, new stereo strings, synth layers, choirs, organs, and more pop-oriented sounds

This is a total of 384 additional presets in addition to the 1082 presets already included with the software. These preset banks normally sell for $10 each.
Rhino AM Edition is available to purchase for $20 USD.
Visit audioMIDI for more information.