Plugin Boutique has launched a 50% off sale on the ADX Professional Suite, a bundle that includes three of Audionamix's leading products VVC, SVC and Trax.
Based on the ground-breaking ADX technology, these tools can separate both musical instruments and melodic voices from typical mono or stereo music recordings.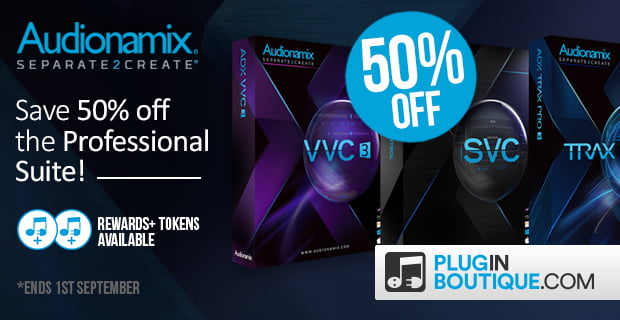 The ADX Vocal Volume Control (VVC) plug-in is a one-of-a-kind solution for controlling volume level and pan position of a lead vocal within a mono or stereo final master mix, without requiring the original multitrack stems.

ADX Speech Volume Control (SVC) plug-in gives you full independent volume level control over both separated speech and separated background elements within a mono or stereo mix. Using this post production dream tool, SVC allows users to separate and lower the level of background noise within troublesome production audio or easily boost dialogue levels without requiring access to original files or the full multi-track session.

TRAX Pro adds a unique approach to spectral editing to this already powerful technology. Using our innovative, non-destructive spectral editing tools, it is now possible to further refine the results you get from the initial TRAX separation process. ADX TRAX Pro is truly the most advanced audio separation software available.
The bundle is available at a 50% discount until September 1st, 2017.
More information: Plugin Boutique / ADX Professional Suite