Plugin Boutique has launched a sale on Xtrax Stems 2, the latest version of the audio separation software by Audionamix.
Version 2 comes with a faster advanced algorithm, high fidelity drum separation processing, and a fully-adjustable, real-time separation balance matrix with presets.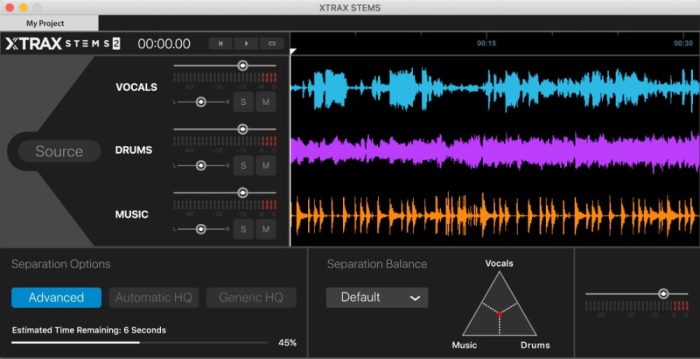 Powered by brand new artificial intelligence algorithms, XTRAX STEMS 2 offers faster, cleaner stem separations, backing tracks and a cappellas at the same low price. Created for DJs, music producers and remix artists, XTRAX STEMS allows users to separate any song into its vocal, drum, and remaining music components for easy sampling, remixing and unmatched control during live sets.

The new Advanced algorithm is 30% faster and dramatically improves separation quality when creating backing tracks and when separating lead, background, and harmony vocals into a single stem. Improved, high fidelity drum processing increases the quality of drum stems and reduces drum interference in both vocal and music stems. Fine-tune and optimize separations using the new, real-time Separation Balance feature. Use presets optimized for creating a cappella, drum, and backing tracks or create a custom balance using the fully-adjustable matrix.
Xtrax Stems 2 for Windows and Mac is on sale for $79 USD until October 29th, 2018 (regular $99 USD).
More information: Audionamix