AudioRealism has announced the release of ABL3 Computer Bassline, a bassline instrument Rack Extension for Propellerhead Reason.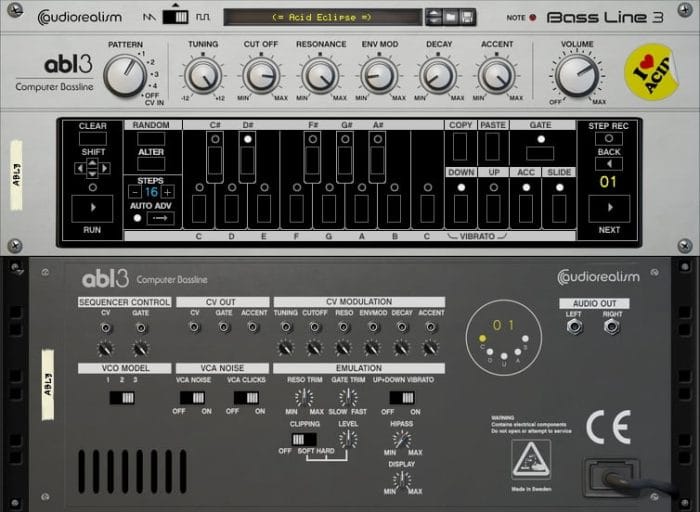 AudioRealism Bass Line 3 (ABL3) is an emulation of a classic pattern based bass machine from 1982.

The legendary silver box that is hallmark in electronic music has been recreated in ABL3 using analog modeling techniques to create a DSP-algorithm that accurately emulates every aspect of the original, from growling basses to hollow middles and beeping highs with metal rattling accents.

Patterns are composed in a fashion similar to the original using the integrated step sequencer with easy to use manipulation functions such as transpose and randomization.
ABL3 Computer Bassline features
Extremely authentic 303 emulation using our ABL3 engine.
Ultra natural knob response, scaled to match the original 303 precisely.
Built-in 303/Rebirth style step sequencer with 64 steps.
Hard sync to the host's transport.
Supports 4 patterns of 16 steps, 2 patterns of 32 steps or 1 pattern of 64 steps.
CV/Gate input to control the sound engine externally.
CV/Gate output to control other Reason devices from the step sequencer.
CV Modulation inputs for Tuning, Cut Off, Resonance, Envelope Modulation, Decay and Accent.
Resonance and Gate Time trimmers that allow tweaking the emulation.
Three different VCO Models.
Noise settings for VCA Clicks and VCA Noise.
Pattern modifiers with Random, Alter, Copy and Paste functions.
Unique vibrato which is activated by setting UP+DOWN on steps. This effect is one of the few extensions to the 303 that we are launching ABL3 with..
Full 48 and 96kHz support, which means the engine uses the full bandwidth of the project setting.
Step Record mode which allows recording patterns via MIDI or the On-Screen Piano Keys.
ABL3 Computer Bassline for Reason is available for purchase for the introductory price of 55 EUR (25% off regular).
More information: AudioRealism / ABL3 Computer Bassline