AudioRealism has announced the release of the VST/AU version of ReDominator, a synthesizer instrument for Windows and Mac.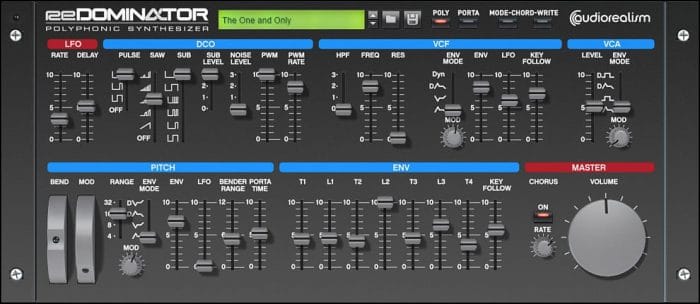 ReDominator is an emulation of the classic Alpha Juno 1/2 (JU-1/2), a polyphonic DCO (digitally controlled oscillator) based synth from 1986.

The JU-1/2 became popular in the early 90's techno and rave scene particularly by the classic Hoover sound (which ReDominator emulates accurately). But beyond those niche sounds there lays a versatile synthesizer that does bass, pads, leads, organs and a lot of other sounds waiting to be discovered!
ReDominator VST/AU features
Accurate emulation of the Alpha Juno 1/2 including the famous Hoover patch.
14 different low aliasing waveforms including a unique PWM-sawtooth.
High quality full range 24dB/octave low-pass filter.
Unique 8 parameter envelope generator which enables much more complicated and expressive sounds than a standard ADSR.
200+ bundled patches (of which many are sysex converted from our own JU-2).
Patch importer which allows importing sysex patches from your own Alpha Juno and play them in ReDominator.
Chord Memory function.
ReDominator for Windows and Mac is available for purchase for 55 EUR incl. VAT.
More information: AudioRealism