Plugin Boutique has launched a sale on the Omnisphere Total Bundle by Audiority, a collection of sound libraries for the Omnisphere virtual instrument by Spectrasonics at half off.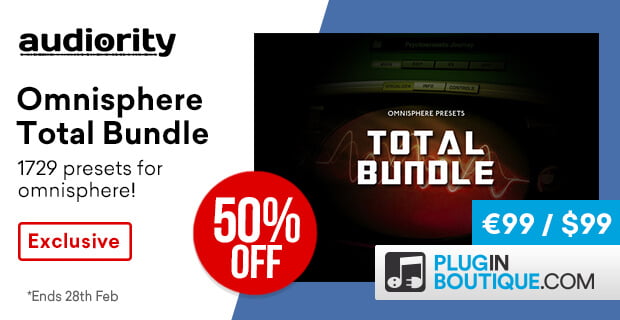 The bundle comprises a huge total of 1,729 presets.
This bundle includes all Audiority Omnisphere soundbanks that have been produced so far.

This Total Bundle Includes: Dancesphere, Darkscapes Vol.2, Driving Force, Driving Force II, Magnitude Vol.2, Magnitude II Vol.2, Omniscapes, Omnisphere Cinematic, Omnisphere Cinematic II, Omnisphere Cinematic III, Omnisphere Cinematic IV, Omnisphere Collection Vol. 1, Omnisphere Modern EDM, Relative Dimensions Vol.2, Scattered Grains Vol.2, Trapsphere.
The bundle includes:
312 Arpeggios and Rhythms.
199 Bass.
81 Drum elements.
222 Impacts and Hits.
94 Leads.
162 Pads and Keyboards.
529 Textures and Drones.
130 Transitions and FX (including Oneshot Hits).
37 bonus WAV files (from Trapsphere).
Normally sold at 199 USD/EUR, you can now get the bundle for only 99 USD/EUR. The offer expires March 1st, 2019.
More information: Audiority