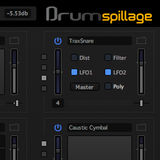 AudioSpillage has released version 1.1 of DrumSpillage, a high quality multi-faceted drum synth plug-in for Mac OS X.
Version 1.1 features improved automation support, choke groups, solo buttons, performance optimisations and many more enhancements.
Changes in DrumSpillage v1.1
Improved support for automation recording and editing.
Added choke groups (12 groups available).
Added solo buttons for each pad.
Pad selector in model editor now displays pad triggers in realtime.
Added copy/paste pad menu items in pad editor.
Added user preference to view MIDI note ranges as absolute MIDI values (0..127).
Pads can now transmit 'velocity' via a user preference.
Added user preference to set default pad note-on velocity.
Global velocity sensitivity on/off switch.
Velocity sensitivity can also be toggled on/off on a per pad basis.
Improved meter sensitivity and accuracy.
No longer supports Carbon GUIs (see minimum requirements for more info).
Significant code/memory optimisations improve real time performance.
Polyphony/voice allocator routines have been rewritten
Bug fixes.
DrumSpillage is available to purchase for a discounted price of £65 GBP / €79 EUR / $99 USD until 31 August, 2010 (regular price £99 GBP / €119 EUR / $159 USD).
More information: AudioSpillage