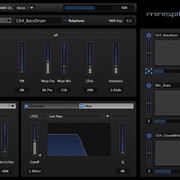 AudioSpillage has updated its MiniSpillage free drum synthesizer for Mac to version 1.3.
MiniSpillage is a free professional quality drum synthesizer plugin featuring a high resolution 64-bit DSP audio engine and a custom set of drum synthesis algorithms. MiniSpillage fetaures 3 drum pads that can be edited to create an enormous variety of sounds.
Changes in MiniSpillage v1.3
Power buttons now act like standard mute controls.
Added automatic update checking.
Added preferences menu item.
Removed erroneous menu items from kit menu.
Bug fixes.
Code optimisations.
MiniSpillage is avialble as a freeware AU instrument plug-in for Mac.
More information: AudioSpillage / MiniSpillage